Brooklyn Nets' Kyrie Irving returns, scores 37 points in double-overtime loss to Cleveland Cavaliers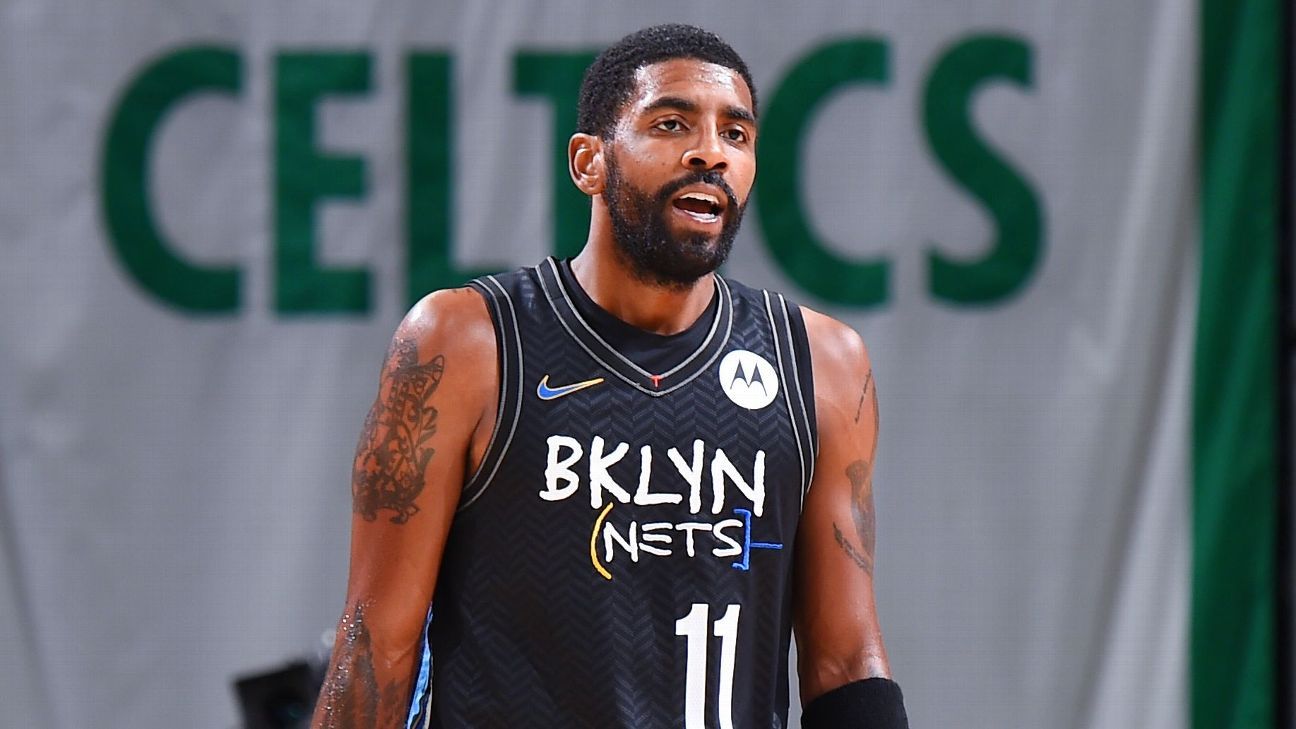 CLEVELAND — Two quarters of disjointed play, the grind of double overtime and a shooting barrage from Cleveland Cavaliers guard Collin Sexton proved to be too much for even the Brooklyn Nets' Big Three to overcome.
On Wednesday — in Kevin Durant, James Harden and Kyrie Irving's first game together, and Irving's first game in over two weeks — the Nets lost to the Cavaliers 147-135.
Durant scored a team-high 38 points, and Irving added 37. Harden finished with 21 points, 12 assists and 10 rebounds.
"It felt right," Durant said of playing with Harden and Durant. "Felt perfect, felt like we belong together. It felt like just joining together is going to be fun. It was a tough start, especially it was an up-and-down game for us."
A win, Durant admitted, would have been more ideal.
Brooklyn's issues weren't on the offensive end. The Nets had visible kinks to work through on the defensive end. They didn't have an answer for Sexton in the overtime periods, as the guard was able to score 20 consecutive Cleveland points to cap off a 42-point performance, a career high.
Coming into the night, the Cavaliers had the worst offensive rating in the league. Against Brooklyn, Cleveland shot over 51% from the field, including 50% from 3-point range. The Cavaliers ended the game on a 23-8 run.
Brooklyn's fragmented play started early. After Brooklyn built a double-digit lead in the first quarter, the Cavaliers went on a 17-0 run that stretched into the second and built a nine-point advantage.
Harden didn't score his first points until the final minute of the first half, when Larry Nance Jr. fouled him, sending Harden to the line, where he sank two free throws.
Coming into Rocket Mortgage FieldHouse on Wednesday, Harden had made a field goal in the first half in 325 straight games, according to ESPN Stats & Information research. Over the past 10 seasons, the only players with longer such streaks are LeBron James and Durant.
"We had breakdowns all over the place," Nets coach Steve Nash said. "So, we've got a lot of work to do. We know that. We know we have a very offensive team right now, so we have to find ways to defend, to get connected, to be on the same page."
Brooklyn's defensive struggles bled into the second half. In the third quarter alone, 13 of the Cavs' 22 field goal attempts were uncontested. Cleveland went 11-for-13 on those open looks, according to ESPN Stats & Info data.
Harden and Durant both played over 50 minutes. Harden finished with a career-high 50 minutes, 30 seconds. Irving — whom Nash said he hoped to play less than 40 minutes — wound up playing a career-high 48 minutes, 22 seconds.
Landry Shamet — who was brought in to help Brooklyn round out its bench — did not play.
"I think the second overtime, there was fatigue," Nash said. "Right now, it looks like we made the wrong decisions; but if they don't make that 3 at the end of the first overtime, it looks like it was worthwhile. Sometimes you roll the dice."
Wednesday's outing was Irving's first since Jan. 5. He had missed the Nets' past seven games — five for personal reasons and two while conditioning. During his time away for personal reasons, the league fined Irving for violating health and safety protocols and attending what appeared to be a family birthday party. He also lost over $800,000 in salary for the two games he missed while in quarantine.
"Always playing the game that I love, I am grateful," Irving said after Wednesday's tilt. "I never take it for granted. Then also to be playing with Kevin Durant, James Harden, just those names alone right now, just were having some fun."
The Nets play at Cleveland again on Friday.