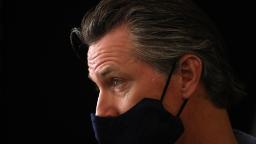 In the spring of 2020, California Gov. Gavin Newsom (D) was riding high, bolstered by his perceived able handling of the coronavirus pandemic in the state. Today he faces declining poll numbers and at least the possibility of facing a recall election later this year.
In May 2020, almost two-thirds of likely Californians (64%) approved of the job he was doing, according to polling from the Public Policy Institute of California. That number is down to 52% in a new PPIC poll released earlier this week. While a majority still approve of Newsom's job performance, the trend line is not headed in a good direction for the governor.
What explains that polling slippage? A combination of circumstances and self-inflicted wounds.
The winter months have been brutal in California, with Covid-19 cases (and deaths) surging. California is the only state with more than 3 million cases, and it is second behind only New York in the number of deaths from the coronavirus.
(This piece, by The Washington Post's Scott Wilson in December 2020, is a frank assessment of just how bad things got in the state.)
And Newsom hasn't helped himself. At all.
In early November, Newsom and his wife, Jennifer, attended a 50th birthday party for political consultant and lobbyist Jason Kinney at the uber-exclusive French Laundry restaurant in the heart of the state's Napa Valley. They were two of a dozen people at the event, which was held at an outdoor table in the courtyard of the restaurant. Photos obtained by Fox 11 in Los Angeles showed Newsom sitting closely packed with other guests — and none wearing a mask. (There is also some debate as to whether they were fully outside, as the woman who took the photos at the restaurant told Fox 11 that the group was loud and sliding doors were closed to keep the room quieter.)
"I made a bad mistake," Newsom said by way of apology shortly after the pictures went public. "I should have stood up and … drove back to my house. The spirit of what I'm preaching all the time was contradicted. I need to preach and practice, not just preach."
Uh, yeah.
Amid all that comes news that an effort to recall Newsom prior to the completion of his term in 2022 appears to have a chance at making the ballot later this year. As of Tuesday, supporters of the Newsom recall have raised $2.5 million to fund the effort — and claim that that money will help them collect the 1.5 million signatures they need before March 17 to get the recall question on the ballot, according to the Los Angeles Times. The recall group had submitted 720,000 signatures as of early last month, with 410,000 of those already judged valid. (Another update on signatures will come in the middle of this month.)
If all this sounds vaguely familiar, it should.
Almost two decades ago, California voters voted to recall Gov. Gray Davis (D) — and install movie star Arnold Schwarzenegger as the state's governor. Davis fell victim to voter anger over a series of botched economic moves, including a much-loathed car tax increase and problems with the state budget. Davis became only the second governor in history to be recalled. (North Dakota Gov. Lynn Frazier is the other.)
Newsom, it's worth noting, is currently in a stronger position — in terms of job approval and overall direction of the state — than Davis was back in 2003.
Even so, the governor has to hope that the recall supporters never get the signatures they need to get the measure on the ballot. (Signature collection is notoriously difficult and expensive; many signatures wind up getting disqualified so you need to gets LOTS more than you need to ensure success.)
Because, as the Davis recall suggests, once voters have a chance to kick a politician out early, they may well take it. Recall elections, even more than a normal election, are momentum-driven things — and Newsom doesn't want the snowball rolling down the hill at him to get any bigger.
Republicans, meanwhile, are circling. Former San Diego Mayor Kevin Faulconer announced his campaign on Monday, saying of Newsom: "He's failed us." While Faulconer is the biggest name in the GOP field, he's unlikely to have the field to himself — with Newsom's growing vulnerability drawing all sorts of ambitious GOPers.
Add it all up, and Newsom's glide path to a second term — and the possibility of a run for national office soon after that — has gotten much bumpier. He needs to steady things out, and quickly.